Exercisers who want to improve their physique may start by implementing a weight-lifting program. No matter how large your muscles, however, you will not appear "cut" until fat stores are decreased. Making changes to aerobic and resistance training programs is important for those who want to get cut. Adding certain foods and drinks to your diet also can provide some benefits for those who want to maintain muscle mass and decrease fat deposits on the body.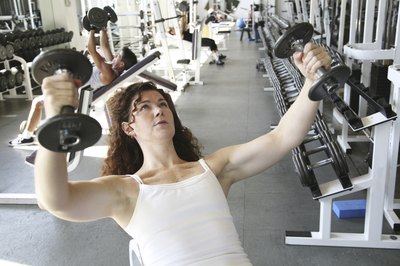 Incorporate Intervals
High-intensity interval training -- or HIIT, as it sometimes is called -- can be helpful when it comes to burning body fat and maintaining muscle mass. In fact, research published in a 2006 article in "Journal of Applied Physiology" found that interval training can increase fat oxidation -- or the rate at which fat is burned for energy during exercise -- by as much as 36 percent. According to the American College of Sports Medicine, HIIT includes an intense work period of between five seconds and eight minutes long, when heart rate levels are kept between 80 and 95 percent of estimated maximum levels. These intervals are alternated with rest periods that are similar in length but performed at intensities of between 40 and 50 percent of estimated maximum levels. HIIT can be modified for use while walking, jogging, swimming, biking and performing other exercise modalities and should last between 20 and 60 minutes to achieve optimal results.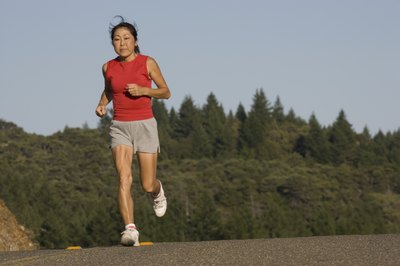 Resistance Training
Resistance training has long been touted as a must for those who are interested in building muscle mass. When it comes to getting cut, however, following specific recommendations in regards to the number of times a specific exercise should be performed is key. To burn body fat, exercisers should perform a high number of repetitions -- like between 15 and 20 -- and decrease their rest periods between sets to as little as 20 seconds. In fact, the American Council on Exercise notes that high repetitions and short rest periods has been found to be effective at promoting increases in growth hormone in the body, which can aid in fat loss and help build muscle mass. For optimal results, be sure to train each body part three times each week.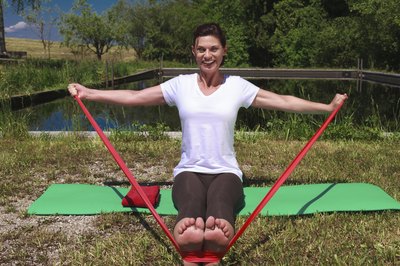 Follow a Healthy Diet
To get cut, incorporating the right types -- and amounts -- of foods in your diet is crucial. Adults who want to get cut should choose foods that help maintain muscle mass -- like protein -- and promote fat burn. Physically active men and women who are trying to maintain muscle mass do not need more protein than the average population, and should aim for 0.8 grams per kilogram of body weight each day. For example, a 150-pound -- or 68 kilogram -- man should eat about 54 grams of protein daily. In addition, adding spicy foods to your diet has been proven effective when it comes to shedding body fat. According to a 2010 study published in "Federation of American Societies for Experimental Biology," research subjects who received supplements containing capsaicin -- a compound that provides spice to peppers and other similar foods -- demonstrated an increase in rates of fat burn and oxidation. Finally, balance out your diet with a variety of nutrient-rich foods to keep your body in prime working order. The Centers for Disease Control and Prevention encourage adults to follow a diet that includes fruits and vegetables, whole grains, low-fat dairy products and lean meats, and is low in saturated and trans-fat, cholesterol, salt and added sugar.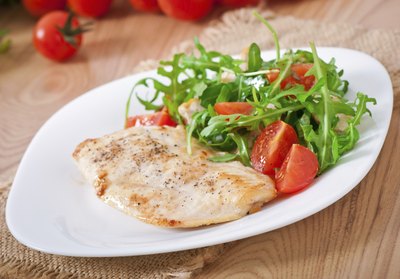 Increase Fluid Intake
In addition to helping the body function at its prime level, drinking plenty of fluid can actually be helpful when it comes to getting cut. Adequate water stores can reduce fat deposits by improving the ability of the liver to metabolize stored fat. Most adults are encouraged to drink at least half of their body weight in fluid ounces each day. For example, a man who weighs 150 pounds should aim for at least 75 fluid ounces daily, and even more may be required if he is very physically active. Be sure to avoid diuretic fluids, which increase urination and may lead to dehydration. Coffee, soda, alcohol and caffeinated tea all have been found to have a diuretic effect.