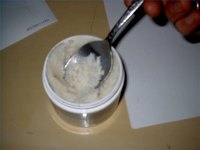 Kokum butter is great for creating healing skin lotions. The butter comes from the Garcinia tree in India, and is useful in regenerating skin cells and relieving chapped skin or lips. Kokum is a hard butter that is difficult to use without making a lotion. Here's a kokum lotion you can make at home to apply to your skin and lips.
Things You'll Need
2 Cups Water
Saucepan
Glass Canning Jar
Tongs
2 Tablespoons Beeswax
1 Tablespoon Almond Oil
2 Tablespoons Kokum Butter
1/2 Teaspoon of Aloe Vera Gel
1/8 Teaspoon Coconut Milk
2 Vitamin E Gel Caps
2 Small Glass Jars for Cosmetics
Boil 2 cups of water in a pan over medium heat. Remove from the heat when it begins to boil.
Measure out 2 tablespoons of beeswax and put it into your glass canning jar.

Add the almond oil and kokum butter to the beeswax.

Use your tongs to hold the canning jar in the hot water. Lower the jar into the water until everything melts.
Stir the aloe vera and coconut milk into the kokum butter.

Squeeze the contents of the Vitamin E gel caps into the lotion. This ingredient is added to nourish your skin.
Heat and stir the mixture until it turns completely to liquid. While the mixture is hot, pour it quickly into your 2 small cosmetic jars. Let the body lotion cool before covering with the lid.