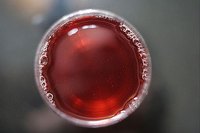 A cranberry juice detox can help rid the kidneys, bowels, and lymphatic system of harmful toxins. The entire process takes 2 ½ to 3 weeks and consists of taking a cranberry juice detox drink daily, as well as eating only fruits, vegetables, and whole grains while on the diet. During the third week, you can gradually reintroduce other foods to your diet, once the body has been thoroughly detoxified.
Things You'll Need
Pure cranberry juice
Distilled water
Psyllium fiber
Apple pectin
Dandelion leaf capsules
Astragalus capsules
Dilute one part cranberry juice with four parts distilled water. Add one tsp. of psyllium fiber and one tsp. of apple pectin. Stir well to combine, and drink 10 minutes prior to breakfast. Eat only fruit and whole grains for breakfast while on the cranberry juice detox diet.
Prepare a second cup of the cranberry juice detox mixture as outlined above. Drink 10 minutes prior to eating lunch or dinner. Eat a simple, healthy lunch and dinner consisting of vegetables and whole grains. Avoid meat, dairy, and processed foods of all kinds.
Take two capsules of dandelion leaf 2-3 times daily for the first week of the cranberry juice detox. Dandelion is a mild diuretic and will also help cleanse the system of toxins.
Repeat steps 1-2 daily for two weeks. Eat organic apples throughout the day for extra pectin. The pectin binds toxins in your system and helps flush them out, while the psyllium fiber adds bulk to the stool and also helps detox the body.
Stop taking the dandelion leaf capsules at the beginning of week 2. Replace them with astragalus capsules, which will help cleanse the lymphatic system. Continue with the cranberry juice detox drink daily as directed above.
Continue drinking diluted cranberry juice, but remove the psyllium and pectin on the third week. Your bowels, kidneys, and lymphatic system should be thoroughly cleansed by this time. Stop taking the astragalus and slowly introduce lean meats and low-fat dairy products back into your diet.