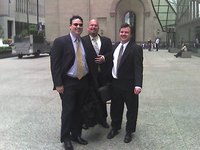 A black suit is the primary ingredient in any formal or professional occasion and is the easiest way to be sure you fit the dress code. Wearing a black suit is as easy as throwing on your favorite pair of jeans. Learn how to put together the proper ensemble to complete your look.
Things You'll Need
Black dress shoes
Black belt
Dress shirt
Tie or bow tie
Cuff links (optional)
Pocket square (optional)
Tailor your suit to fit your body. While you most likely purchased the best fit you could find in the store, there is no substitute for custom fitting. Send your black suit to a tailor and have the pants hem and sleeves adjusted for a perfect fit. Use the tailor's recommendations for other alterations. Since a black suit lasts for life, investing in getting it tailored is a smart decision.
Send your suit to a dry cleaner and have it professionally pressed, or steam your clean suit at home. To steam it, hang your suit properly on a hanger and hang it in the bathroom with you while you shower. The steam from the hot water in the closed room will help ensure that the suit is wrinkle-free and ready to wear.
Ensure that you are familiar with the dress code for the occasion, and prepare to dress. Lay out a black belt and black dress shoes to match your black suit. Wear black dress socks, as white socks are never to be worn on formal occasions.
Accessorize your suit. Add a formal, collared shirt with a matching tie. If your shirt supports cuff links, place them in the holes on the cuffs. Add a pocket square to your jacket for the finishing touch. A black suit matches everything, so feel free to bring color into your look, although a classic white shirt and black tie is always a safe and simple choice.