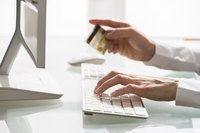 A landlord can spend a lot of time chasing down tenants to collect rent, and slow-paying tenants can really mess up your cash flow. You can save time and speed up payments by setting up tenants to pay rent online. One option is giving tenants your property's bank information and asking them to make a funds transfer, but that puts your bank information at risk. To avoid this risk, landlords with just a few tenants may use PayPal to set up tenants to pay online. If you have a lot of tenants, you may want to go with a commercial service that specializes in handling online rent payments.
Open a business account with PayPal if you decide to go with this option. You have to furnish PayPal with your bank information so you can transfer funds, but your tenants will not see your bank information. Provide PayPal and your tenants with an email address or phone number. Give tenants the PayPal web web address. Instruct each tenant to go to the PayPal website and follow the prompts to enter the email address or phone number you furnished. The tenant will be prompted to enter the amount of the rent payment and a bank account or credit card account number. PayPal debits the tenant's account and puts the money in your PayPal account. A tenant may also use a PayPal account to pay rent if he has one.
Set up tenants to pay rent through an online rent payment service. This is mostly a matter of creating an account with the service you select. You must furnish your bank account information so the service can send you payments as they arrive. Do some shopping around. Fees can be low – just a dollar or so per transaction -- and some firms don't charge a start-up fee.
Provide your tenants' information to the online rent payment service and give tenants the web address so they can pay you. To make a payment, all the tenant has to do is go to the website and follow the prompts to enter her bank account or credit card information and authorize payment. Online services usually have other helpful features, such as sending tenants a reminder notice a few days before the rent is due. Allow 3 to 5 business days for rent payments to show up in your property bank account.