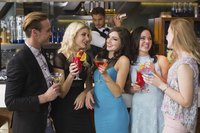 Every season features an excuse for a party, whether it's an after-work holiday gathering or a summer bridal shower. You want to look good surrounded by your family, peers and colleagues, so put together an arsenal of smart beauty and clothing tricks so you'll be ready to hit any festive gathering in style.
Holiday Spirit
Holiday parties demand a bit of sparkle and glimmer. Women may wear skirts with sequin or feather accents, paired with a fitted blouse and some sparkly pumps, for an automatic party look. Or opt for a dress in jewel tones or a cranberry red, then add a few metallic accessories -- such as a bracelet or chunky necklace -- and sweep your hair up into a messy chignon. Men can simply pull on dress slacks and a warm-toned button-up shirt for a touch of the festive. A pair of dress boots and a warm cream or cranberry sweater are the perfect party accents.
Summer Sizzle
Summer parties on patios or around a pool demand fresh, light wardrobes. Pair a cotton dress with a bedazzled belt, some nude sandals and a high ponytail. Or pair an A-line skirt with a coral or pink blouse and some pumps. Keep your makeup fresh and light -- tinted moisturizer, a nude shadow, a flick of black eyeliner and a berry lip will do. Gentlemen can convey a summer attitude in light-colored slacks and a cotton shirt in creams and sand colors.
Fresh-Faced and Fabulous
If you receive a last-minute party invite, keep your look simple and classic. A little black dress, tailored coat and a pair of killer pumps will set you up for the night. Pair your look with a sleek bun, some black eyeliner on the top lash line and plenty of mascara. Add some eye-catching earrings to finish the look. Men can fall back on dark slacks and a freshly ironed dress shirt. Add a sport coat and a skinny tie for more glamorous occasions. Always remember that shoes make the outfit, so keep a pair of stylish boots or dress shoes on call.
Gala-Ready Looks
If you are headed to an elegant, more formal event, look for dresses with distinctive accents and cuts. Anything with delicate beading or stitching will make you stand out. Find a snug pair of heels to finish the look. For makeup, choose a golden champagne eye shadow on top and a bright, red lip for a pop of color. Add a clutch, a wrap and a statement necklace. Wear your hair up in a ballerina bun or in soft, flowing waves. Gentleman should wear a tie and at least a sport coat, along with a well-tailored, pressed pair of pants. Keep any facial hair trimmed and groomed.