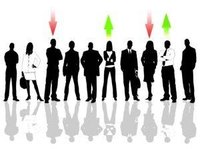 If you've been put in charge of hiring a new employee, the first thing you should do is post a job ad for prospective employees to reply to. Posting a job ad is a great way to garner applicants from many different areas, and in most cases, the better the job ad, the better quality applicants you can get. You just need some information about the job and the right avenue, and your job ad will mean that you get the most qualified person for the job.
Decide on an avenue for posting your job. You can decide to post it online or use the more traditional method of a newspaper classified ad. There are plenty of websites that you can post jobs on, the most popular being Monster, CareerBuilder, and Craiglist. Posting an ad on all of these sites plus a newspaper classified will ensure that you get a well-rounded grouping of employees.
Set up an account with the site(s) where you're posting your job. This will allow you to set up an e-mail address that is dedicated to receiving job applicants, which can help you stay organized and on top of the list of candidates.
Begin by posting the job title, such as "Administrative Assistant," "Sales Associate," or whatever the title of the job is. Make sure you are straightforward so people with the right qualifications are more likely to click on the job posting. Now is not the time to give creative or funny job title names.
Fill out the job description. Include pertinent information such as the duties that are required of the employee, as well as any job benefits that come with it, such as 401(K), health insurance, or vacation time. Also include the pay scale for the job. It is a good idea to put in a number but also note that it depends on experience.
Input your contact information so applicants can contact you for an interview. Indicate whether you're accepting phone, e-mail, or in-person applications and list the contact information for each avenue of communication.