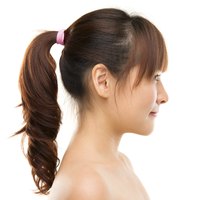 There's one thing most girls can't live without: hair ties. Styles can range from simple to embellished, and they come in all shapes, sizes and elasticity. Hair ties can be made with elastic ribbon or the traditional ponytail holder. Making your own hair tie allows for complete customization to fit your style and the thickness of hair.
Things You'll Need
Fold-over elastic, 5/8-inch width, in any color or pattern
Ponytail holders, without metal clamp
Hair clips or clamps
Ribbon
Flat-back embellishments of your choice
Scissors
Glue or hot glue gun
Ruler or measuring tape
Anti-fray sealant
Types of Hair Ties
For thicker hair, it's best to use a hair tie with ample stretch and substantial thickness so it can wrap around the hair enough times to secure the ponytail. You won't need as thick and stretchy a tie for thin hair and may want to use small embellishments and thin ribbon so the hair tie won't look out of proportion with the ponytail. Hair ribbon ties can also be substituted with hair clips for hair that isn't long enough to put in a ponytail. Think of your hair tie as not only a necessity, but as an accessory to complement your style.
Elastic Ribbon Hair Tie
Measure and cut 8 to 10 inches of the fold-over elastic. For thick hair, use 10 inches and for thin hair use 8 inches. Fold the elastic ribbon in half lengthwise where the two ends will meet. Tie the ends with a loop knot. Use the anti-fray sealant on the edges. Leave the hair tie as is, or add embellishments to compliment the desired style.
Note: The elastic can be longer than 10 inches for extra thick hair.
Ponytail Holder Hair Tie
Tie ribbons into a bow around the ponytail holder that best suits the thickness or thinness of hair. Cut the tails off the bow to the preferred length. Use the anti-fray sealant on the ends of the ribbon and let it dry. Leave the bow as is, or add rhinestones or flat-back embellishments to the ribbon. Add rhinestones and flat-back embellishments by putting a little dot of glue on the ribbon and gently press the rhinestone down. Don't use too much glue or the excess will bleed underneath the embellishment and will be visible.
Decorative Hair Clip
Attach ribbon, bows or embellishments with glue to a hair clip or clamp. Bows can either be pre-made and bought at a craft store, or you can create your own bow with your choice of ribbon. If you are using ribbon or a material that frays, add the anti-fray sealant to the edges. Rhinestones can also be added to the bow to be attached to the hair clip. Embellishments include anything from silk flowers to buttons to sequins. It's better to use a hot glue gun when attaching these styles since the glue dries faster than bottled glue. Embellishments need to be carefully held in place until the hot glue dries and sets.