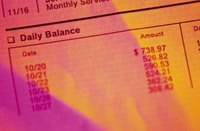 Opening a second bank account is no different from opening the first account, with one exception. If you are opening an account in a state other than where you live, the first account must be opened in person. Beyond that the process is the same.
Things You'll Need
Social Security Number
State identification card or driver's license
Credit or debit card, or checking or savings account (if account opening online)
Visit the website of the bank where you want to open the account. Each bank's website is set up differently, but you should be able to easily identify a product link or a link to open an account online. Click that link. You will need to certify that you are over 18 years of age and a legal U.S. citizen. You will also be asked to select the state in which you live.

Certify that you agree to the "e-sign agreement" and to the terms and conditions of the account. Next you will be asked to enter a variety of personal information, including your social security number, and driver's license or state identification number. You will also select your personal identification number (PIN).

Verify the information on the application and declare that the information you have given is correct. Next you will be asked a series of questions to verify your identity. Typically the questions are from information contained on your credit report.

Deposit funds into the account. To do this online you will need a credit or debit card or a checking or savings account. If you don't have those things, or if you encounter any difficulty with the process, visit a bank branch in person. A banker can assist you.