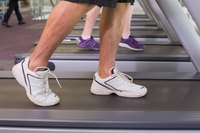 Gold Bond Powder absorbs sweat and moisture to stop itching, soothe skin and prevent body odor. The many varieties of Gold Bond Powder contain a mixture of essential oils and "medically proven ingredients," according to the company's website. Apply Gold Bond Medicated Body Powder, the brand's flagship product, just about anywhere on your body.
Medicated Body Powder
Gold Bond Powder is effective for use at any time, but it's commonly used after bathing or working out, or before heading out into hot, sticky weather. Sprinkle some Gold Bond Powder in your hands and thoroughly rub it onto parts of your body that are prone to irritation and wetness, such as the insides of your thighs, your groin or your feet. To minimize getting powder all over, apply Gold Bond Powder in the shower or bathtub after you're dry. When you're done, step out of the tub and rinse any excess product down the drain.
Other Products
Spritz Gold Bond Powder Spray on the areas you wish to treat, as if you were using spray-on deodorant. Apply Gold Bond Medicated Baby Powder directly to your little one's bottom, gently rubbing it in to prevent diaper rash and skin irritation. Liberally sprinkle Gold Bond Medicated Foot Powder all over your feet and in between your toes.