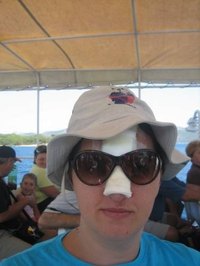 If you've decided to have plastic surgery, it isn't something you want to become public knowledge. Eventually, however, when you go back to work, your boss is going to notice. It is better to inform her before rather than for her to find out after the surgery.
Develop a friendly relationship with your boss. When you and the boss have a friendly, honest rapport, it will be easier to go to her and discuss personal issues later.
Send your boss an email asking for a few minutes to speak to her privately in her office. If your boss doesn't use email, then discreetly slip a note onto her desk.
Once you are in her office, be blunt with the news. Your boss is busy and you don't want to take up too much of her time with your personal issues. Simply explain you would like to schedule vacation or personal time off because you are going to have surgery and need time off to recover.
Be cautious about disclosing too much personal information with others, particularly your boss. If she asks, it is up to you if you wish to tell her what kind of procedure you are having done. You are not under any obligation to do so.
Give your boss a specific date of when you will be returning to work and assure them that nothing will interfere with your responsibilities on the job. Get another employee to cover for you while you are out so that you will not get behind. Your boss will appreciate your thoughtfulness.