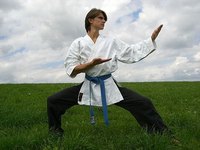 There are many reasons why you may want to become a karate teacher. You may enjoy teaching others about something that you know a lot about or you may enjoy seeing your students be successful. Regardless of why you want to become a karate teacher, one thing is for certain, "skills and solid foundation on the arts are the basic requirements for a teaching career" (http://www.startupbizhub.com/martial-arts-instructor-career.htm Start Up Biz Hub)
Things You'll Need
Black belt
Experience
CPR training
EMT card or physical education teacher's certification
Communication skills
Leadership skills
Space to hold classes
Advertising
Get your black belt in karate. Become skilled, coordinated and confident enough to instill this knowledge in your students. Participate in competitions whenever possible and let your Sensei know that you want to be a karate teacher.
Become an instructor trainee and begin teaching once you become a brown belt. You will need to do this for 3 years before you will be able to teach classes yourself. Spend this time developing your teaching skills. Model other instructors that you respect.
Get certified in CPR. This is not necessarily required but it is still a good idea to have this. You may also want to get your EMT card or physical education teacher's certification. Both can be helpful since you will be working in the athletic field.
Develop strong communication and leadership skill. It is important to understand and be able to communicate with people. You also need to express yourself intelligently.
Get a job at a karate studio or gym. Offer to teach classes at schools, community centers, fitness clubs and churches.
Once you have some work history under your belt teaching at a karate school, you will be able to open your own studio. Rent or lease space, get insurance and begin advertising your classes.
Advertise yourself and your classes through the phone book and fliers. Offer demonstrations to local schools and a free class to help generate interest.