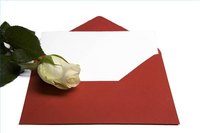 Everyone likes to receive an unexpected birthday card. Sending birthday cards to your clients tells them how much you value their business. Spending the time to handwrite and address a card will go a long way in your clients' eyes. This can make you standout from the competition.
Things You'll Need
Select an appropriate card. Cards about bodily functions and age jokes are inappropriate. Pick a card with an inspirational message and tranquil picture that is gender appropriate. Flowers and gardens work nicely for women, while fishing or old cars are appropriate images for men.
Include a personal thought-out message. Wish them a happy birthday and many more happy years. Include a warm sentiment that reflects your relationship with your client or something like, "Birthdays are anniversaries of the heart" or "Birthdays are a keepsake of time that live forever in the heart."
Thank them for their business, and offer your continued services. Tell them how much you value them as a client. Try something like, "Since you are a valued client, I want to continue offering you excellent services. We want to exceed your expectations." Consider offering a special promotion like 10 percent off their next order.
Sign your name legibly below the personal message. The client should be able to clearly read the first and last name.
Slip a business card into the birthday card, or remind the client of your contact information by writing your e-mail address and phone number below your signature.