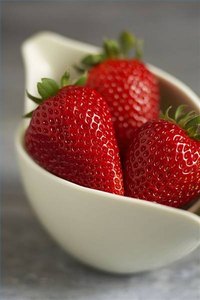 Considering that there have been no studies done on the effect of teeth-whitening agents on an unborn fetus, it is best to avoid conventional whitening systems while pregnant. According to a report by "The Wall Street Journal," this includes strips, gels, paint-on whitener, laser whitening and (to be on the safe side) even whitening toothpastes. Using these whitening treatments could result in the fetus coming into contact with a potentially dangerous chemical, since the gums are very absorbent. There is also a risk of swallowing chemicals that could reach the baby.
There are, however, some safe and all-natural alternatives to traditional bleach whitening that are suitable for expectant moms.
Things You'll Need
Strawberry
Baking soda
or:
Lemon juice
Salt
Orange peel
Use a spoon to smash a ripe strawberry and 1/2 tsp. baking soda into a pulp. Rub the mixture onto your teeth using a toothbrush or your finger. Leave the mixture on for five minutes, then rinse thoroughly. Avoid leaving the mixture on for too long, since sugar acid can erode tooth enamel and cause tooth decay. Brush and floss your teeth afterward to remove any seeds.
Mix three parts lemon juice with one part salt and rinse your mouth with the solution. (This whitening method might not be suitable for sensitive teeth or for those on a low-sodium or low-acid diet, since there is a risk of swallowing the mixture.)
Thoroughly rub the inside of an orange peel (about 1/2 inch wide) onto your teeth from side to side to reveal a bright shine. The calcium and Vitamin C in an orange peel are said to be extremely beneficial to teeth.