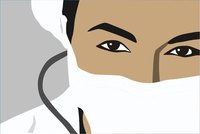 Pimples last approximately four days, but can last up to two weeks. Red spots from blemishes, however, can stay on your skin for months, even years. If you're looking to reduce the red spots from past and present blemishes quickly, there are a few steps you can take to speed up the process. If you have more severe red marks from acne, you may need to seek treatment from a dermatologist.
Things You'll Need
Oil-free clay acne mask
Oil-free toner
Oil-free moisturizer
Oil-free cleanser
Gentle exfoliant
Wash your face twice a day with an oil-free cleanser, which will help even out your complexion. You can purchase an oil-free cleanser at your local drugstore.
Dry your face thoroughly. Then use a cotton ball or cosmetic pad to apply oil-free toner to your skin. Let the toner dry completely, and then moisturize your face thoroughly with oil-free moisturizer.
Use an oil-free clay facial mask on your skin twice a week. You can purchase an oil-free clay facial mask at your local beauty supply store, makeup store, department store or drugstore. Leave the mask on for 10 minutes, and then rinse it off thoroughly in the shower.
Use an oil-free exfoliant, like St. Ives Apricot Scrub, twice a week. Do not overscrub or use a washcloth to scrub in the exfoliant. Gently, in a circular motion, massage the exfoliant into your skin with your fingers for approximately one minute; then rinse thoroughly.
Consider a chemical peel if you have more severe acne spots and the previous steps do not help. A chemical peel can only be performed at your dermatologist's office; it consists of applying chemicals and acids onto the face to dissolve the first layer of the epidermis. When the epidermis heals in approximately a week, the red spots should have disappeared.