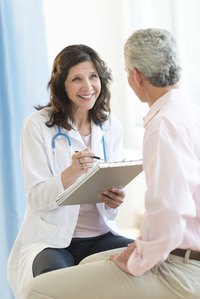 Doctors' websites aren't always clear on what types of insurance they accept and calling each doctor's office can take a lot of time. If you have insurance through Aetna, there are ways to search for doctors directly through the company website at www.aetna.com. The search itself only requires some basic information, such as your location and the type of doctor you are looking for, and should only take a few minutes to complete.
Main Aetna Website
Click on the "Individuals and Families" tab on the far left of the top navigation bar and then select "Find a Doctor."
Click on the "Find an Aetna Doctor" tab.
Fill in your member username and password, or follow the prompts to create an account. Browse through the directory of doctors and conditions and procedures to find a suitable choice.
Click on "Find doctors, dentists and hospitals" if you are not currently an Aetna member. Select a plan, such as an Individual Purchase, and fill in your zip code when prompted.
Search by the doctor's name or the location, filling in all the required fields under the selected option. Hit search and browse through the listed selections.
Aetna "Find a Doc" Search
Select the tab most appropriate to you under Aetna.com/docfind. You can search by location, name or conditions and procedures.
Fill in the required fields, such as the type of doctor or care center you are looking for, your zip code, plan type or relevant facilities.
Click "Search" and review the options presented.