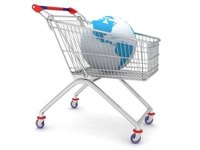 Before you even open the doors to your business, you need to decide which forms of payment you will accept. You cannot expect your business to reach its full potential if you only accept cash. Not to mention, a consumer may not even view your business as reputable if you do not take some form of plastic. So prior to welcoming your first customer into the---virtual or physical---vestibule of your business, be certain that you can provide them a complete customer service experience: Open a merchant account.
Things You'll Need
Employer Identification Number
Open a business checking account. In order to set up a merchant account you need to have a checking account set up for your business at your desired financial institution. If you have a physical storefront, the mailing address for the business needs to be the same as the address on the business check.
Obtain a valid Employer Identification Number (also referred to as a Federal Tax ID) from the Internal Revenue Service.
Have an active online storefront or physical store address. If your business is solely online, the storefront needs to be active (all set up and ready for customers to be invited in), with a valid business name, when you set up the merchant account. In addition, the domain name of the website needs to be registered in your name.
Set up a secure checkout system (see link in Resources section). Before you can set up your merchant account, you need to have a secure checkout system on your website. You will also need to describe which payments you will accept (e.g. PayPal, Visa, MasterCard, American Express, etc.).
Apply for a merchant account. Go to the website, or physically go to the brick and mortar site, of the financial institution where you will be setting up the merchant account. (The setup process will be a lot quicker, and cheaper, if you open your merchant account at the same financial institution used for your business). Once you are on the website or physically in the bank, you need to fill out a merchant account application. If online, search the toolbar for the appropriate icon.
Have your personal information readily available. You will need a lot of your personal information in order to open your merchant account. To make the process as seamless as possible, have your driver's license available, any licenses/permits associated with your business, and all of your financial statements for your business.
Give the bank your account information for your business. Before you can properly set up a merchant account you have to give all of your business account information to the financial institution. For instance, the routing and account number for your business checking account. In most cases, the bank will be able to retrieve the needed information from a voided check.
Give the bank a copy of your Articles of Incorporation, if applicable.
Pay for the merchant account. The fees associated with opening a merchant account vary based on the size of your business. However, you will be responsible for fixed fees and variable fees. The "fixed fees" will cover the application cost, the monthly cost of having the account, and the annual fee, if applicable. The "variable fees" will vary from month to month, according to your use of the service.
Look into an Independent Sales Organization or a PayPal account. If you have a small online business, you may want to create a merchant account with PayPal. The set-up cost is free for small businesses. However, you will be charged a small fee for each credit card transaction processed through the service. If you would like to open a third-party merchant account, you can do so with an Independent Sales Organization. If you opt for this kind of account you will only pay a flat fee. (See link in Resources)