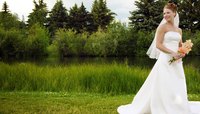 The average bride spends well over $1,000 on her wedding gown, according to statistics from TheKnot.com. The wedding gown's sentimental value and potential place as an heirloom calls for proper preservation immediately after your special day. While you have a few options for preservation, you'll certainly need archival-quality storage products and help from a professional or two to get the most life out of your special dress.
Proper Prep
Proper preservation begins with a clean dress. Between your wedding and honeymoon, have your gown taken to a professional gown cleaner or a dry-cleaning service that is well-versed in wedding gown cleaning. Ask about cleaning methods; hand cleaning and solvents like perchloroethylene -- or perc -- and petroleum-based solvents are typically safe bets. Directly after cleaning, the dress should be folded and wrapped in uncolored tissue paper or pre-washed, unbleached muslin. Line an unbuffered archival garment storage box with the tissue or fabric. Place tissue or fabric between every fold of the dress, stuff the sleeves and pad the bodice before placing the folded dress in the box. All the storage materials should be brand-new and acid-free, including the box and tissues or muslin.
Storing With Care
For maximum longevity, keep your dress in a temperate, dry area free from extreme temperature changes or direct sunlight exposure -- relative humidity of about 50 percent is ideal. An indoor closet or under the bed are both solid choices; choose a place with a climate comfortable for a person, as a general rule of thumb. When you have a peek at your dress, wear white cotton gloves before handling the garment. Open the box annually to refold the gown and replace the paper, and replace the box once every 15 years. To avoid potential damage or discoloration, store accessories such as jewelry or shoes separately from the gown.
The Pro Route
Though often pricey, professional wedding gown preservationists specialize in cleaning your dress and packaging it for longevity. After wet- or dry-cleaning to remove stains -- even invisible ones, such as sugar or champagne -- wedding gown preservationists wrap the gown in acid-free tissue paper and place it in an archival box, similar to the type used at museums. For your best chance at removing stains and prepping your dress for a successful preservation, choose your preservationist before the wedding and deliver your gown before you leave for your honeymoon. Select a preservationist that guarantees the work and offers reimbursement if the gown is damaged after years of storage.
More to Know
Steer clear of storing a heavy dress on a hanger, as it may alter the gown's shape over time. Lightweight dresses may be hung on padded silk hangers and covered with a cotton, muslin or silk cover, though this method doesn't offer the longevity of boxed storage. Avoid wrapping your gown in plastic, which may encourage moisture, mold and mildew. If you opt for an archival box with a viewing window, choose one with an acetate rather than plastic panel. Choose a box big enough to minimize the number of folds you need to make, which reduces the stress on the fabric.