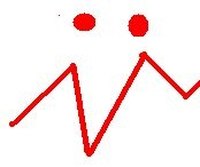 The stock market has been on a roller coaster ride lately. You probably feel a bit out of control with the crazy swings the Dow Jones has been on. While I can't tell you which direction it is going to take, I can show you how to make your own data analysis chart of the evolution of the Dow Jones or any stock.
Things You'll Need
a computer
Microsoft Office or Open Office
On the Yahoo page mentioned above: Set the date range. Dow Jones prices are available since 1928 to present. Also set the sampling rate (Daily,Weekly,Monthly,Dividends Only)
Click on 'Get Prices'. The page will update.
Scroll down and click on 'Download to Spreadsheet' It will ask you whether to open the .csv file with Microsoft Office Excel (or your default spreadsheet program) or save the file. Click on 'Open'.
Now you have the data in Excel with the date in the left column and various DJIA values in the other columns. Create a chart using a data range with the columns you want. Make sure you include the date column . Also, the volume should be plotted separately since it's orders of magnitude greater than the rest of the values. Excel will know that the date is the x axis of your plot and will make a nice chart.
Right click on any set of data points and click on 'Add Trendline' to start making some sense of this mess!