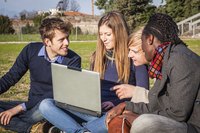 Coverdell Education Savings Accounts allow you to save money for future education expenses and reap tax benefits. However, you must open a Coverdell at a bank or other Internal Revenue Service-approved organization that offers such accounts. To open an account, you need to fill out an account application from the bank you're signing up at. Some banks have minimum contribution requirements.
Coverdell ESA Eligibility Requirements
Not everyone is allowed to contribute to a Coverdell ESA each year: Your modified adjusted gross income can't exceed the annual limits. As of publication, if you're single, the cutoff is $110,000, and if you file a joint return, the cutoff is $220,00. In addition, the account beneficiary must be under 18 years old. If you are eligible, you're limited to contributing $2,000 per year, per beneficiary. So, if you have two kids, you could add $2,000 to each of their accounts.