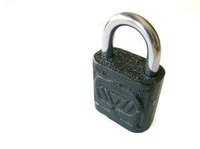 Buying a safe for your home is an excellent investment. You can store your valuables in it or you can keep your hard-to-replace documents in it. Almost all safes are fireproof, so if your home is damaged by a fire, you can at least know that your documents are intact. Once you place your items in the safe, you will need to learn how to open it.
Things You'll Need
Manufacturer's info
Locksmith
Use the combination or the key that came with the safe. You will find the combination in the instruction booklet that comes with the safe. Most of the time, safes that contain keys have them taped to the bottom of the safe.
Order a replacement key if you lost yours. You will need to call the manufacturer listed on the instruction sheet that came with the home safe. They can mail you a new key (for a fee of course), but at least then you will be able to open your home safe.
Call the manufacturer if you lost your combination. They will be able to tell you, based on the serial number of your safe, what your combination is so that you can open it. The manufacturer's phone number will be on the instruction booklet that came with the safe.
Find out your combination if you have a combination lock by turning the dials until you hear the clicks. Hold the clamp up with one finger and turn the knob to the right until you hear a click. That is your first number. Then turn the knob to the left until it stops. This is your second number. Reverse and go back to the right still holding up the clamp. When the clamp comes free you have found the third and final number of your combination.
Call your local locksmith. Locksmiths can get any safe open for you. You will have to pay their fee, so make sure the contents inside the safe are more valuable than the fee the locksmith is going to charge you.