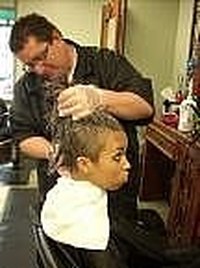 If you're like me, you have probably been relaxing your hair at home for years. You either just don't have the time or finances, to visit a salon so frequently. If you are more comfortable with going to the salon to have your hair relaxed, that's perfectly fine. But, if you are interested in performing this task yourself, I would like to share with you some vital information that may help you in applying the relaxer yourself and prepping your hair in advance for this process.
Things You'll Need
petroleum jelly to base your scalp and previously relaxed hair
towel(s)
applicator brush
gloves
relaxer
neutralizing shampoo
conditioner
Let's begin. Now, to better comprehend the entire relaxing process, let's go over a few things to help you understand what reactions are actually taking place as you relax your hair. Your natural hair consists of protein bonds. These bonds are what gives the hair its strength. In order to straighten or relax the hair, these protein bonds have to be broken down. This makes the hair more manageable, esthetically approving to some, and even appear longer. But at the same time, the hair is becoming weaker, drier, and even more susceptible to damage. That is why chemically treated hair requires special attention in order to decrease the amount of breakage and damage that will occur if the hair is not properly cared for. In this article, I would like to explain to you how to care for your hair and scalp weeks before and after relaxing, and also how to properly apply the relaxer to your hair.
As stated earlier, when a chemical relaxer is applied to the hair, it breaks down the protein bonds that actually make the hair strong, in turn the hair is weaker after relaxing. But, just because you choose to relax your hair, does not mean it has to fall victim to breakage and damage. At least one week before you relax your hair, treat it to a strong protein treatment. This will help retain more of your hair's strength during the relaxing process. Protein treatments can be purchased from your local beauty supply, pharmacy or grocery store and even online. A protein treatment is simply a conditioner that has a large amount of protein in it. Keep in mind that there are some conditioners that have protein in them that are used on a weekly basis, not to be confused with hard protein conditioners which can only be used once every 6 weeks. Some protein treatments include, Aphogee 2 Step Protein Treatment, Nexxus Emergencee, and Mizani Kerafuse. If you choose not to purchase conditioners such as these, you can make your own protein treatment from home and get the same benefit. All you have to do is mix 1-2 eggs with regular mayonnaise from the fridge, some olive oil and maybe a little conditioner of your choice. There are no specific ratios, just be sure to add at least 1 egg, an additional egg for longer hair. Shampoo your hair with a clarifying shampoo. Apply treatment all over your hair, if you will be sitting under a hooded dryer or using a warm towel, place a plastic cap over your head first and let sit for 30 minutes. If you are using no heat, place plastic cap on and let sit for 1 hour. Once the allotted amount of time has elapsed, rinse, and deep condition your hair with a moisturizing conditioner following the same instructions.
Okay, so you've done your protein treatment, and you're just about ready to relax your hair. Remember this should be the last time you wash your hair before you relax. Always wash your hair no sooner than 5-7 days before you relax. Apply some type of natural oil like, olive or castor oil, to your scalp about 2-3 days before you relax your hair and try to avoid combing through your scalp or scratching it the day before and the day of relaxing to avoid burns.
Alright, you're just about ready to begin. Base your hairline, nape and ear area with vaseline (petroleum jelly or other petroleum based product). Section your hair into 6 sections , 3 on each side of your head. A good tip to remember when relaxing your hair is to never start at your nape area or your edges. This is the thinnest area of the hair and you should start the process here last. When I relax I begin in the crown of my head, working towards the front and then the back last. If your hair is previously relaxed, be sure to protect it by applying petroleum jelly to the previously relaxed portion of the hair to prevent overlapping the relaxer. Apply relaxer to newgrowth only. Now that you understand how to apply the relaxer you can begin. In order to prevent over-processing be sure to follow the time chart according to your hair type found either in the instructions or on the outside of the relaxer container. It is imperative that you do not allow the relaxer to sit on your hair longer than the recommended time in order to prevent damage. When time is up, be sure to rinse all traces of relaxer from your hair with warm water.
It is now time to shampoo your hair. If using a relaxer kit, there should be a bottle of shampoo that is included. If using a lye relaxer, you usually have to buy shampoo separately with these types. Always be sure to use a neutralizing shampoo. This type of shampoo is specially formulated to stop the relaxing process. Shampoo your hair twice, and then a third time. Leave the shampoo on for 10 minutes and then do a final rinse. At this point you will need to deep condition your hair for 20-30 minutes with a plastic cap and heat from a hooded dryer or warm towel.
Maintaining your hair after the relaxing process is very important. The hair tends to be drier after being chemically treated so be sure to moisturize daily!. Deep conditioning at least once a week is also a must. Remember to be gentle with your hair and try to manipulate it as little as possible. It is recommended that you relax your hair every 8-10 weeks. For more information on general hair care, and to see my full regimen, visit my blog at www.msnulengths88.blogspot.com, Thanks!