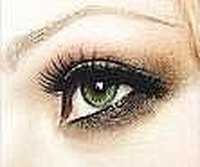 Eye makeup can be daunting - apply too much and you look trashy, apply it wrong and you just look silly. But if you get it right, eye makeup can turn very plain looking eyes into show stoppers.
Things You'll Need
Eyeshadow quad
Eye liner
Mascara
Eyelash curler
Eyeshadow brush
Start by washing your face according to your normal routine including any creams or lotions that you normally use. To make your eyes look their best, start applying an eye cream that contains sunscreen in the morning and a night repair cream before you go to bed at night.

If you use a makeup primer, only apply it to your eyelids if (1) it is gentle enough not to bother your eyes; and (2) you have difficulty getting eye makeup to stay put without it. For most of us, a separate eye primer is unnecessary.
Start with eyeshadow. For a casual look, pick two complimentary colors. Start with the darker one and brush it lightly onto your lids along the lash line. Sweep the lighter color all over your eyelid.

For a more dramatic look, use an eye shadow quad. Use a medium tone along your eyelashes. Sweep a lighter one over your eyelid. Sweep the lightest one just above your eyelid up to just below your eyebrow. Sweep the tiniest bit of the darkest color in the outermost creases of your lids. Then, blend, blend, blend.

Eye liner comes next. Draw a light line just above your upper eyelashes and just below your lower ones. Have them meet with a slight flourish at the outer crease. Older women may not want to line their lower lid to avoid dragging down their eyes. For a more casual look, only line the top and bottom of the outermost corners.

Finally, mascara. Start by using the eyelash curler. Hold the curler clamped down in place for 15-20 seconds. Apply mascara to lower lashes first. That way, you don't get smudges of your wet upper lashes as you look up trying to do your lower ones. Do two coats on the lower lashed followed by two coats on the upper ones. Let dry, and you're good to go!