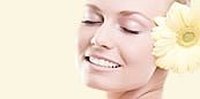 Face it ladies we would like to look flawless everyday all day if we could and if it required less work. Looking flawless can get you the job you have been dying for or even help you get a raise(sorry but its true!) With these simple to follow steps anyone can achieve the flawless look every day all day long!
Once you have cleansed you skin with a mild soap dont forget to use a toner afterward to keep your skin looking well extra clean but without the added shine and prevent your make up from caking.
Apply a good moisturizer to you face after you have used a toner to keep you skin looking smooth and freshly hydrated. Even oily skin types need a darn good moisturizer also another benefit for using a moisturizer is that it will help plump up your skin in a good way.
apply a good concealer to you skin to help cover up any redness or any other problem areas on your skin. THe reason for this is because it will smooth out your skin before you add some of foundation(you'll only need a small amount.)
Apply a cream based eye shadow followed by a powder eye shadow to help set the shadow(to avoid it being sucked into the creases of your eyelids.)Also be sure to apply lip gloss before applying your lipstick and if you are up to it add alittle glitter to your lips.