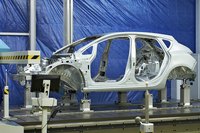 The assembly line is an optimal choice for a large-scale manufacturing process for the creation of vehicles or other heavy industrial equipment. However, it isn't optimal for smaller firms that don't need to keep up with large orders. For these companies, a one piece flow production line, where workers accompany a product through the entire manufacturing process, may be more appropriate. Setting up a one piece flow line is easier with less manufacturing equipment.
Create a written breakdown or module drawing of your manufacturing process, breaking up the entire process into smaller process groups, each of which takes place in its own station. Separate these different processes so that each process group takes about the same amount of time to complete.
Rearrange your manufacturing facility so that it reflects the process breakdown that you created. This will usually require heavy remodeling for large-scale manufacturing operations. Arrange your manufacturing process so that workers travel with the product in a "U" shape, maximizing your space within your facility.
Separate your employees into work groups, or work cells. Each group will be responsible for the entire manufacturing process for one product. You will typically need to retrain employees to handle new equipment or hire new ones to maintain production flow.
Create an hour-by-hour work schedule for employees that indicates what work group should be at what station at a certain time. One work group must hold production on their product if the next work group hasn't left its station, making proper scheduling crucial. Align employee shifts so that no products are left unfinished when employees go home for the day. Leave some extra time in the schedule to account for unexpected problems in the manufacturing process.