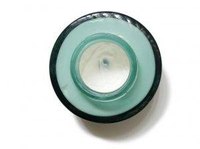 Vitamin E lotion is especially good for dry, damaged and rough skin. It can be used on the face, hands and body, and leaves the skin silky and smooth. Use this simple method to make your own vitamin E lotion at home, using wax, oil, rosewater and vitamin E capsules. This recipe makes approximately 4 ounces of cream.
Things You'll Need
Double boiler
Beeswax
White wax
Lanolin
Sweet almond oil
Glass or stainless steel pan
Distilled water
Borax
Rose water
Electric beater
Vitamin E capsules
Tincture of benzoin
Low tub or jar
Combine 1 ½ teaspoon beeswax, 1 tablespoon white wax, and 1 tablespoon lanolin in a double boiler. Heat over low flame, and slowly add 3 ounces sweet almond oil.
Heat 1 ounce of distilled water, and 1 teaspoon borax in a glass or stainless steel pan, until the borax has completely dissolved. This will act as an emulsifier in the vitamin E lotion.
Add 1 ounce of rosewater to the borax mixture, heating until it is slightly warm. Add the rosewater and borax combination to the beeswax mixture, without allowing either pan to get cold.
Beat the mixture with an electric mixture until it has cooled to room temperature. Add a few drops of tincture of benzoin, which acts as a preservative to extend the shelf life of the oil and prevent rancidity.
Prick open 6 vitamin E capsules with a pin, and deposit the contents into the cream base. Mix with an electric beater until the vitamins are thoroughly combined. Store the vitamin E lotion in a low tub or jar, and use like any other lotion.