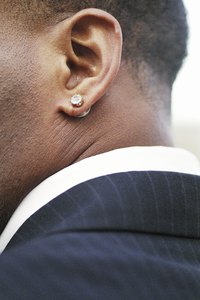 The right diamond stud earrings can give you a look of extravagance without damaging your budget. Information is key to finding high quality diamonds. You must understand the color grades for your diamonds and how those grades affect the appearance of your stud earrings. Once you know what you are looking for, you can use online auctions to find the earrings you want, without having to pay more than you are willing to pay.
Determine the size of stud earrings you want to purchase. Consider the size of your earlobes because larger studs on smaller earlobes can look gaudy. Study the price difference between large stud earrings and smaller cuts. If price is a concern, consider a 1/10 carat diamond stud set. These often work well as studs and won't break your budget.
Study the color differences between diamonds. Smaller cuts appear colorless, even with color grades as low as J or K. Look at the diamonds yourself and select a color grade you are comfortable with. Compare the difference in brightness and sparkle between stones with a high color grade and stones with a lower color grade, noticing that the color does not diminish the sparkle of stones. Consider a yellow gold setting for your stud earrings, as the yellow gold helps disguise low color grade diamonds even further.
Avoid expensive jewelry stores, when purchasing your diamond stud earrings. Instead, look for your earrings at less expensive places, such as online auctions on eBay or online jewelry wholesale stores. Use online auctions to search for the stud earrings, which are perfect for your ears and less expensive than jewelry stores.
Review the information for each set of earrings within your price range, making sure the color grade and size are right. Visit an online auction site that sells earrings. Make a bid for the earrings you want. Avoiding overbidding by offering an initial price you are comfortable with paying. If the auction price rises higher than you are willing to pay, move on to another auction and try again. There are a lot of online jewelry auctions, so be patient and wiat to win an auction within your price range.