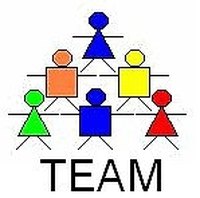 Project or Task teams are the most commonly used teams in high performance organizations to implement tasks to accomplish an objective. Problem Solving teams may involve employees, customers, and suppliers who work together to improve a process or product. These teams will require some team-building and training that applies to all teams, but they may also need specialized training as a group or individuals in order to accomplish their team's work.
A project team or problem solving team are temporary teams pulled together to accomplish a particular task, to solve a specific problem, or to analyze potential ideas or business opportunities by a given deadline. Although each team member vote is considered equal, membership will be a mix of people from different levels in the organization and who have varying skills, knowledge, and perspectives of the project goal to be accomplished.
The team's purpose, budget, milestones, and boundaries may be determined before forming team, but team members determine how to divide and schedule work assignments. The team should work internally within for group decision-making, but may work with those outside the team for suggestions or ideas for the team to consider.
Recognize that there may be conflicts of interest since members could be from different work areas and will have both the project leader and their regular manager to report to as well as receive assignments from. However, each team member will be required to carry out certain work assignments according to their expertise, skill level, desire to learn, or area of influence. This type of team requires high-levels of trust, participation, respect, and communication among members to accomplish tasks and solve problems.
If necessary, the core project or problem solving team may form sub-teams, committees, or groups with members inside or outside of the core team in order to more efficiently accomplish necessary work.