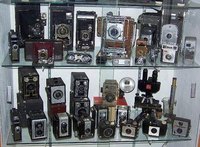 Picking a name for your photography business is one of the most important decisions you will make about your business. You need a name that is memorable or you won't be able to count on word-of-mouth advertising. You also want a name that will transfer well if you create a website.
Things You'll Need
Make a list of your name along with the word "photography" or "photo." For example, you could have: Jane Doe Photography, Photography by Jane, Photos by Jane Doe, etc. Once you get this list choose the one that stands out. Using your name is a great choice because it makes doing taxes a whole lot easier.
Make a list using the name of your town, county or street. This option only works if you plan on never moving. Your list could look something like Cape Cod Photography, Main St. Photography, Main Street Photos, Cape Cod Photos, etc. Choose the one that is most memorable.
Use your specialty to create a list of names. For example, if you only take wedding photos you might want to call yourself Wedding Portraits by Jane. If you specialize in school portraits, you can call yourself School Days Photography. If you only take pictures of wildlife you could call yourself Capturing Wildlife. After you create your list using your specialty as the focus, you can pick the one that stands out. Just keep in mind that going this route may make it more difficult to branch out into different specialty areas. If you think you may expand your business to cover other topics, this may not be the best naming option for you.
Use the name of your child. Wendy's is one of the most famous fast-food restaurants and was named after the founder's daughter. Make a list of names you could use that include the name of your child. Sophie's Classic Portraits or Pete's Family Photography are possible choices. Also consider using the name of your animal if you specialize in pet photos. Again, choose the one that rolls off off your tongue.
Make up a list of names using words that relate to photography and cameras. Some examples are Point and Shoot Photography, Shooting with Shirley, Cool Shots or Say Cheese Portraits. Decide which of these phrases is the catchiest and choose it.