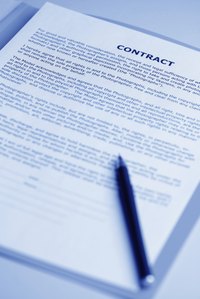 If you are a paralegal who enjoys the freedom of entrepreneurship, one way to practice in your craft is by offering freelance services. As law firms become more mobile -- and global -- hiring attorneys are looking for people to work outside of the traditional office structure. As an entrepreneur, you are in a perfect position to choose when you want to work, how you want to work, and to whom you will provide assistance.
What's the Matter?
Before you begin your freelance work, one of the first things to consider is exactly what type of cases you will, and will not, accept. Make an honest assessment of your current skill set and your desire to work in chosen areas. If either are lacking, it is a good idea to not consider cases on that topic. Now is not the time to try to learn a new subject or make yourself like something you generally do not. Be truthful with yourself and reflect your conclusions in the services contract. After deciding what type of work you will accept, consider the services you will provide.
Services Provided
When drafting a contract, it is important to be concise and concrete about your services. Let the attorney, or firm, know what you will do for them. If you are unable to perform a duty, do not put it on the list. Nevertheless, you may miss something that should have been included on the list. In that case, write a statement about the list being "non-exhaustive," and leave the door open for duties that were inadvertently unlisted. Also, it is important to remember that in the course of a legal issue, sometimes things change. To prepare for this possibility, include language that discusses how to handle changes in the terms of the agreement (for example, deadlines or expected duties). Further, the contract should state how to handle changes when both parties do not agree to an amendment.
Location, Location, Location
Different states have different rules regarding requirements for paralegals. In order to work on a legal matter in some states, you have to be licensed. The freelance contract should include a statement regarding licensing. The attorney may need this information prior to making an offer.
No Conflict
Prior to signing an agreement, find out who the client is so that you may avoid a future conflict of interest claim. If the attorney is unwilling to disclose who the client is before entering into a services contract, forward her a list of your previous clients. The attorney should be able to determine whether you may be hired for the matter. Once it has been determined there is no conflict, attach a "No Conflict Statement" to the contract or include a paragraph addressing the issue within the actual document.
Finalizing the Deal
Once you, or your attorney, have drafted the contract, send it to the other party for review. Provide a deadline for agreement or a counter-offer and await a response. If the deadline passes, contact the attorney to ensure receipt of the communication. If the document was not received, negotiate a new deadline for a a final decision.