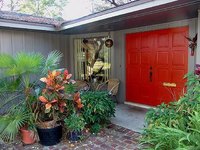 There are multiple methods for calculating property values to get at an accurate number for net worth, but they all take into account liabilities. If the individual owes more money on the mortgage than they own in home equity, then the home has a negative impact on net worth rather than a positive one. Ultimately, a home is only as valuable as what a buyer is willing to pay for it.
Consider having the home appraised. An appraiser will come to the home, examine it, and provide a researched value that you can use in your calculations.
Compare your home to the recent selling prices of other similar properties in the area. This is generally an accurate method of appraisal, but it can differ if there are significant distinguishing characteristics in your home or in the ones that are being sold.
Subtract the outstanding mortgage principle, if there is one, from the value of the home. For net worth calculations, this returns an accurate value.
Contact appraisers to look at your other major assets to add into your net worth calculations. Other significant property includes cars, boats, secondary homes, valuable antique furniture, jewelery, electronics, computers, high quality tools and collectible items. Many such items are overlooked when calculating net worth, but it can have a significant impact on it.
Add the number that you get with the mortgage to the value appraised for all other assets and liabilities. The sum total of this will be net worth.