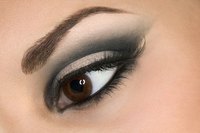 Add impact to the appearance of your eyes by increasing the definition of your eyebrows with brow powder. Whether you have thin brows or simply want to make them more dramatic, brow makeup is a great temporary fix. Use these tips to buy the best brow powder to suit your needs.
Condition your eyebrows by choosing brow powder featuring ingredients like vitamins C and E. The antioxidants are said to increase the brow powder's longevity and the softness of your brows.
Opt for the best brow powder that's hypoallergenic and approved for use by contact-lens wearers if you have sensitive eyes. Before you apply the brow powder, tap the brush to remove excess powder that could flake off and bother your eyes or lenses.
Find brow makeup that also comes with a brow wax to keep the brow powder from flaking throughout the day. After you apply brow powder, for example, use the angled brush to apply the clear brow wax on top of it to help define your brows and set the powder.
Look for brow makeup compacts that feature more than one color. Use multiple shades to add definition to your eyebrows with shading that makes the effect more natural looking. You can also blend two brow powder shades to create a color that better matches your brows if you can't find a suitable color in the store.
Consider brow powder that allows you to apply it wet or dry. You'll be able to apply the powder with a damp brush for a heavier application to define thicker brows or completely fill in gaps in your brow line. You can also use the same powder dry to add a touch of color and drama.