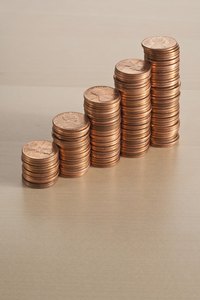 Credit cards, loans and overdrafts can make it easy to overspend without really noticing you're doing so. If you regularly pay out more than you pull in each month, it's time to take action. Living beyond your means will soon catch up with you if you don't make an effort to control your spending. The good news, is most people can find ways to reduce their spending and save money.
Trade Down
Shop at cheaper supermarkets and buy budget brands as opposed to premium items. Stick with old technology and don't be tempted to upgrade to the latest smart phone or tablet computer, no matter how appealing the devices appear. Cancel any services you don't use such as gym memberships or pricey cable subscriptions that include movie and sports channels you don't watch.
Shop Around
Taking the time to sniff out the best deals can save you a small fortune. Use cashback websites and coupons to save money on everyday purchases. Visit price comparison sites to make sure you're getting the best deals on services such as utilities and telecoms. Sign up with daily deals websites and check your inbox regularly for bargains. Just make sure you really need the things you are buying, no matter how cheap or discounted the price. Paying for items you don't need just because they're on sale won't help you cut your spending.
Trim Your Social Life
Eating in restaurants, drinking in bars, going to the movies and taking in concerts can seriously eat into your disposable income. Check out local papers and websites for free events or visit art galleries and museums that don't charge an entrance free. Invite people to your place for a few drinks and an evening of movies instead of hitting the town. Either that, or stay home with a good book -- preferably secondhand.
Make Do and Mend
Fix up your old clothes instead of throwing them away and buying new ones. If your closet's really starting to look bare, pick up secondhand items at thrift shops or from online auction sites.
Miscellaneous Spending
Look after the cents, and the dollars will look after themselves. You'll probably be surprised at how much you spend on small items throughout the course of your day. To save money, cut out the coffee on your way to work, take lunch to the office instead of eating out every day and walk short distances instead of driving or taking public transportation.
Gifts
Birthdays and Christmases can be a nightmare if you're struggling to make ends meet. Be honest about your financial situation when it comes to giving gifts. If you can't afford any grand gestures, say so and offer something such as a couple of nights babysitting instead.