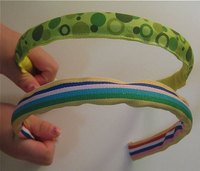 Make hairbands / headbands for kids, or adults -- great and inexpensive gifts! Make matching Mom and Daughter ones for Mother's Day! Very inexpensive and easy to make, and beautiful!
Things You'll Need
Plastic hairbands
Fabric ribbon
Sewing machine (or hand-sew)
Thread
Buy inexpensive hairbands from the dollar store -- color doesn't matter, as they will be covered up.

Measure the width of the headband and buy ribbon that is at least 2 1/2 times that width. For a 1/4" headband, buy a 3/4"-wide ribbon.

Cut a ribbon length that will cover the entire headband, plus 2".
Fold the ribbon in half length-wise, with the "right" side of the fabric folding inside (some ribbon has no right or wrong side, so fold those either way).

Sew along one short end, then turn the folded ribbon inside out so the right side of the fabric is now showing.

Then sew along the long, length-wise open edge of the folded ribbon.

Slide the ribbon cover over the plastic hairband.

Sew the remaining open end closed, turning the cut ends inside first. You can hand-sew or use a machine for this quick task. Finished headband!