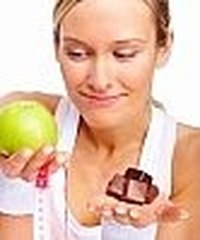 Ever tried counting calories in order to get weight loss results? If the scale hasn't moved it could be because you're not getting a true daily calorie count. Keeping track of every calorie you consume isn't always easy, but there are tools that make counting calories relatively simple. Let's get counting those calories and shedding those pounds.
Things You'll Need
Measuring Cups
Food Scale
Journal
Online Calorie Counter
Keep track of exactly how many calories you eat by keeping a daily food journal. Write down everything you eat and drink every day. Don't forget to count the salad dressing, the fixings on the sandwich you had for lunch and the whipped cream on your hot chocolate. Just by forcing yourself to write down everything you eat you'll think twice about taking seconds and start making healthier choices.
Use simple kitchen tools like measuring cups and measuring spoons and a scale to make sure you're eating the exact portion size. This works great for cereal, chips or crackers (or any food that comes in a box or bag), drinks, and condiments. Look at the nutritional information to easily see how many calories are in one serving. If a carton of orange juice lists 8 oz as one serving, but you usually fill a 12 oz glass for breakfast, you're drinking 1.5 servings instead of one. If you're not sure how many ounces your glasses are fill one with water. Dump the water into a large measuring cup that includes fluid ounces to find out how much the glass holds.

While you're cooking write down the nutritional information on the ingredients you're using to prepare your meal. Some online recipe sites such as allrecipes.com list the nutritional information (calories, protein, serving size, etc) with the recipe making it super easy to see how many calories you're consuming. This all eliminates the need to look at every ingredients calorie count.
Some foods (such as produce) don't have a label, but the nutritional information can easily be found online. See the link in the Resources Section below.

If you're eating out at a restaurant you should be able to request the nutritional information, including calories and fat. Many fast food restaurants are now making their nutritional information easy to find. Some even post it prominently in their restaurants. If the restaurant doesn't have the information readily available do a quick internet search. See the link in the Resources Section below for a list of nearly 500 restaurants and their nutritional information. Just find the restaurant where you ate, select the meal you ordered and you'll get a break down of calories, fat, sodium, and the rest of the basic nutritional content.
In addition to keeping track of your calorie intake you need to keep track of your activities. This will help determine how many calories you're burning during the day. On a separate page of your food journal write down any physical activity you do during the day. This includes working out, walking your dog, even washing your hair burns calories.
At the end of the day input your meal information that you have written in your journal into an online calorie counter. There are tons to choose from (see the Resources Section below). Many calorie counters are free, plus they have the nutritional information for thousands of food products at the click of a mouse. Most sites have a large database of food information like calories and fat content. So if you're thinking about eating an Egg McMuffin for breakfast you can look it up before you head out. If it's too many calories for you to stomach you can pick something that fits better into your diet.
The second part of the calorie counter is to calculate the number of the calories you've burned. Most calorie counters have some sort of "activity browser" where you can search out your daily activities. Simply select the activity and type in the number of minutes you participated in the activity and the calories burned will be automatically calculated.
If you set up an account with the calorie counter site you can add both the food calories and your activity calories burned and it will tally your total calories per day automatically. If you don't want to join simply take the total number of calories you consumed and subtract the calories burned and you'll have your daily caloric intake. If you're trying to get weight loss results you'll need to go one step further and figure out how many calories your body requires and then eat about 250 fewer calories per day. For more on exactly how to cut calories to lose weight see the link in the Resources Section