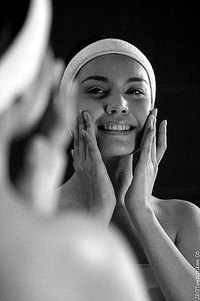 Blackheads happen to anyone, male or female, at any stage of life. They are not limited to the teen years. Blackheads are caused by excess oil on the skin, which clogs the skin pores. When air hits the oil on the skin, it oxidizes it, causing the oil to appear black. A common skin care regimen to remove blackheads uses exfoliation. Exfoliation can actually be harsh on the skin, causing small tears and leading to further problems. There are simple remedies for removing blackheads without using exfoliation, instead keeping the skin smooth and healthy. Give each one of these treatments at least 3 days to work before trying another one.
Things You'll Need
Citrus juicer
Lime
Cinnamon
Water
Baking soda
Lemon
Potato
Honey
Using the citrus juicer, squeeze a fresh lime. Use the lime juice and make a paste of one part lime and one part cinnamon. Depending on how much of an area you wish to treat, this could be as small as 1 tablespoon to 1 tablespoon or 1/2 cup to 1/2 cup. Once you have mixed the paste, apply it to the blackheads. Allow it to dry and leave on overnight. You will want to cover your pillow with a spare pillowcase. Rinse off in the morning with lukewarm water. Do this every night until you see the blackheads disappear.

Make a paste of baking soda and water, using equal amounts of both. Gently rub into the skin affected by the blackheads. Leave on for 15 minutes. Rinse off with lukewarm water. Repeat daily as necessary.

Using the citrus juicer, squeeze a fresh lemon. Using a cotton ball, apply the lemon juice to the affected area. Let the juice dry on the face. Repeat this several times throughout the day. Rinse face at night. The tightening of the skin removes the blackheads.

Warm some honey by setting the jar in hot water. When it is warm, apply a thin layer of honey to the affected area. Leave on for 15 minutes, then wash off with lukewarm water.

Wash a fresh potato. Grate it with the skin on. Take the grated pulp and apply it to the face. Let dry for 15 minutes, then peel off and rinse with warm water.