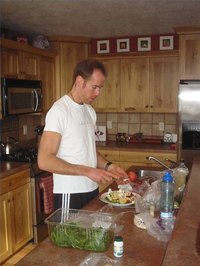 The scientific definition of a calorie is the amount of heat it takes to raise one gram of water 1 degree Celsius. The body relies on heat to burn calories. This is the whole idea of exercise. Heat is generated and calories are burned. If there is an overabundance of calories consumed, they will be stored as fat. That is why counting calories is important to avoid excessive weight gain.
Things You'll Need
Reference books
Food scale
Read your labels. A nutrition label will list the serving size, the amount of servings and the calories per serving. They also list the amount of carbohydrates, protein, fat and calories the item contains. Be careful as there are sometimes 2 or more servings per package. To figure out the amount of calories, multiply the servings times the calories per serving. This applies to single items and anything that is boxed, bagged or canned.
Consult with a good calorie content website. There is the CalorieKing. Type the name of a food into the search engine and it provides all the nutritional content including the calories, serving sizes,nutrients and variations of the food. A good example of this would be bananas. It gives information on fresh bananas, banana chips, pudding, muffins and even banana splits.
Purchase resource guides. These can be books or magazines with a collection of foods and their caloric content. Resource guides generally give you the calories, fats and proteins of every food. They also show how to figure out portion sizes. This works especially well when trying to lose weight.
Purchase a food scale and measuring cups. The calorie content of a lot of foods is measured by weight and volume. This is especially the case with meats and grains. A package will often give the size in ounces, cups or grams. By using the scale you can find out exactly how much meat 200 calories equals by placing it on the scale and making proper cut backs. Measuring cups work really well with cereal and oatmeal. Here's an example of how it works. If a 1/2 cup of oatmeal equals 150 calories, then 3/4 of a cup will contain 225 calories. This is figured out by adding 75 to 150 which is half the amount of calories in a half cup. All you need to do is adjust according to the calories per serving.
Journal the results. After finding out all the necessary information on caloric amounts of foods, it is a good idea to log them in a journal. In this journal, log food sizes, meal combinations and the calorie contents of each. Mark down several different options for breakfast, lunch, dinner, snacks and desserts. This will give you a quick reference guide when at home and when you are preparing meals.