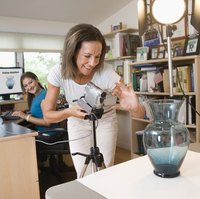 Some people are naturals at selling on Ebay. If you're new to this market or are trying to increase your sales, there are three easy steps to help boost your Ebay sales and put more money in your PayPal account. Start with good-quality items that will attract interest. Perfection may not be necessary in all cases, though. If an antiquarian book has a couple of dog-eared pages, mention that in your description so buyers know ahead of time.
Post pictures. Pictures are a huge part of your Ebay success. Would you buy anything without seeing what you were purchasing? Don't use stock photos either. Take photos of the actual item up for auction. Take multiple shots: close-ups, different angles and with and without the flash. Post the best quality pictures of the those you take. Take your time and do it right.
Describe your items with detail and honesty. People want an honest depiction of what is being sold at auction. They can't physically pick up the item and investigate for themselves, so they need you to give them an honest and thorough description. Don't overlook that blemish, no matter how small. People will respect detail in your descriptions and will be more likely to bid on your item than on the item of the person who uses generalizations and unclear terminology. Details also make your item more specific and less generic; telling what brand and model your old camera is attracts buyers more than just saying you are selling a vintage camera.
Offer free shipping or a range of options. If at all possible, offer free shipping for your customers. Your auction items receive more attention and bids when your listing comes up highlighted in all the lists as having "Free Shipping." Ebay automatically looks for Free Shipping auctions and gives them optimal placement in all lists. Otherwise, offer alternatives such as bulk rate or express for buyers who can't wait for that special item.