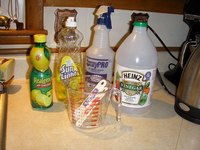 Non-Toxic, Inexpensive Glass Cleaner Recipe. Makes enough for your whole house for pennies! Safe to use around kids and pets.
Things You'll Need
Lemon Juice
A spray bottle
Get together the items you will need. A clean spray bottle, vinegar, water, dish soap, and lemon juice. You may also want a funnel to get the mixture in the bottle. You can get a new spray bottle with measuring lines on it or you can reuse an old one.

Pour 6 ounces of distilled white vinegar into your empty spray bottle. Also, add 1 TBS lemon juice to the bottle. It does not need to be fresh squeezed, the refrigerated stuff will do fine.
Mix 1/4 TSP dish soap, with 24 ounces of water. Then pour the mixture into the spray bottle. It is easier to get the soap in the bottle if you dissolve it in the water first so that it doesn't stick to the measuring spoon.
Shake it up a little and you are ready to go clean windows and mirrors!