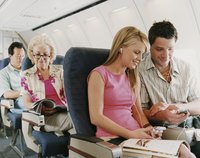 It's possible to earn thousands of airline miles without ever leaving the ground. Airlines partner with credit card companies, travel vendors and other businesses to allow you to earn mileage for shopping, dining out and even paying your utility bills. Check out your airline's miles program website for information on point-earning opportunities.
Credit Cards
Some credit cards allow you to earn miles when you use the card to make purchases. Credit card mileage programs vary among airlines and card types, making it important to read the fine print before signing up.
Here are some things to consider:
Some airlines work directly with a credit card issuer to provide a co-branded card. When you use one of these cards, you earn mileage from the sponsoring airline.

You can also earn mileage from credit card loyalty programs not tied into a specific airline. If you aren't sure whether your credit card has a loyalty program, call customer service and ask.

Many co-branded airline credit cards offer a significant mileage bonus when you are approved for the card and use it to make purchases.

A mileage card maximizes the value of other earning programs by increasing the miles you earn for each purchase. For example, if your utility company gives you a miles bonus on your energy costs, paying your bill with a mileage card increases your earnings.

Mileage cards are most cost-efficient when you pay off your balance each month. If you carry a balance, crunch the numbers before choosing a card that earns miles. A high interest rate costs you money over time, which may be more than you'll save on airline costs.
Utility Bill Payments
If you live in an area with deregulated utilities, check your options. Some utility companies now offer a mileage bonus on every dollar you spend on your electric or gas bills. As with the credit cards, check the cost of these services before signing up. In some cases, you may end up paying more for your utilities than you would with another company that doesn't offer a mileage bonus.
Travel Partners
Partnerships between airlines and other travel providers allow you to earn mileage for hotel stays and car rentals. Check your loyalty program's website to learn how to earn miles for booking these travel services. In some cases, hotel loyalty programs give you the option of earning loyalty points that can be spent at the hotel or points that can be converted into airline miles.
Retail, Dining and Financial Partners
Some airlines award miles for dining out, getting a loan, requesting an insurance quote or making online and offline purchases. For example, American Airlines promotes its AAdvantage eShopping Mall. This is an online portal that links to many well-known online retailers. The program tracks your purchases and you earn miles for every dollar spent. United sponsors MileagePlus Dining, which allows you to earn miles by using a registered credit card at local restaurants. There are even car dealers and lending companies that offer mileage bonuses.
Online Surveys
Marketing companies offer a variety of reward incentives to consumers who complete online surveys. Several online survey companies partner with airlines to provide miles as one of the reward options.