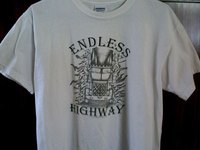 I enjoy drawing all types of things. I decided to take my drawing to a new level. I wanted to see my artwork on a T-shirt. I did the research and I have accomplished my goal. I will share with you the steps and cost of printing one of your original ideas on a T-shirt.
Things You'll Need
Original idea
Thumb drive
Screen printer
The idea you would like to use must be original. You must get the image scanned, you can either do this at home if you have a high resolution scanner, at Office max or Kinkos. There are other places that do it also. I have used Office max the most. This may cost you around eight to ten dollars. Make sure to ask the attendant to save the image on your thumb drive or CD. Keep in mind anything color will be more expensive. I do all black and white.
There are a few different ways to print. Heat transfer is cheaper but the quality is not as good. If you just want to have one or two shirts made this will probably be okay. If you want to sell some I recommend screen printing. You can look through the local yellow pages and find companies that do this. It is really trial and error. I got samples from three companies before I found the one I liked. Some business's will do a free sample and some will not. If you are wanting to try and sell your shirts I recommend printing at least twenty because the fees could cost you around $60.00. There is an art and screen making fee, a run fee, cost of the shirt and a fee per shirt. There is only the art fee one time for each image. A run fee is every time you print using that image, a printing fee per shirt.
I purchase my own shirts because going through the printer they can charge you five dollars a shirt. I buy mine at a discount T-shirt warehouse. S&S sales is a great place to do business with. They are very affordable and the more you buy the cheaper they are. Gildan is a great brand and used all over the world. A white plain T-shirt is the base lowest price, if you want a color, long sleeve, tank top or textured these will all be more expensive.
Once you are ready to print, plan for the process to take a week to ten days depending upon how busy the company is. They will first input your art into their program and adjust any flaws. Then a screen will be made for your image. This is where the artwork is burned on to a metal screen that consists of tiny little holes. They will have you come and look at a sample before they print the whole order usually to make sure you are pleased with the product.
Screen printing is the best process if you want to sell your own shirts to the public. Heat transfer is if you want to make some shirts for a special occasion or for a personal reason. I hope this has helped you in someway way to achieve the goal of seeing your idea come to life on a shirt. Starting your own business is a whole different article. this will at least get you started on the product.