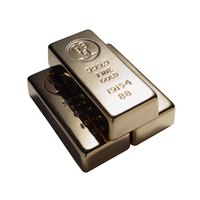 Silver bullion provides a tangible investment to add to any novice or seasoned investment portfolio. Investment silver, commonly known as silver bullion or fine silver, contains .999 pure silver. The precious metal's global price, set by banks and silver dealers with a century-long history trading the product, fluctuates daily and serves as a fairly accurate indicator about the state and health of the economy. Savvy silver investors watch the market closely and wait for price drops before making large silver bullion purchases.
Mint Purchases
Navigate to the website of any privately owned mint that sells silver bullion. You might also purchase silver bullion directly from the U.S. Mint operated by the U.S. Treasury Department. Mints amass large amounts of silver and produce investment bullion weighing fractions of a troy ounce up to 10 troy ounces. These online retailers usually display the daily price of silver on their websites.
Shop for the silver bullion items you wish to purchase and add them to your shopping cart. Silver bullion options include collectable coins as well as the traditional rectangular bars. You can also purchase silver bullion by brand, although this usually doesn't affect the bullion's resale value. Well-known silver bullion brands include U.S. Mint, Johnson Matthey and Credit Suisse.
Pay for your silver bullion by wire transfer or credit card. Mints handle silver bullion payments in the same way that online stock brokers handle stock payments, meaning, your funds must clear before the mint sends you the bullion. Expect to pay a slight retail markup over the daily market price, sometimes referred to as the spot price, plus shipping and handling for newly minted silver bullion.
Online Auction Purchases
Browse silver bullion listings on online auction websites. Silver bullion auction prices are set at the seller's discretion and might not reflect current market prices. Watch the price of silver on the commodities exchange website closely to avoid overbidding. Consider only those listings with detailed photographs of stamped silver bullion.
Confirm the seller's reputation before placing bids on silver bullion. Because you have no way of confirming the silver bullion's quality, read any negative feedback first, and avoid sellers who have a reputation for delivering poor products and services. Additionally, you might wish to avoid placing bids on silver bullion listed by new sellers with no history. Only bid on silver bullion offered by sellers who post clear and reasonable return policies.
Pay for your silver bullion using the online auction website's suggested method, should you win an auction. Purchase a silver testing kit or take the silver bullion to a local appraiser to confirm authenticity. If the silver bullion is stamped or carries a brand name, you probably don't need to have it tested.