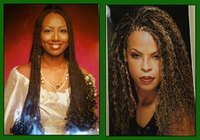 Braids and braid extensions are not just a fashion accessory, they are also a great way to keep hair healthy and manageable. However, if you want to get the full benefits of your braids and have the longest, strongest, healthiest hair possible, you must take some precautions when you are caring for your braids. Whether you have all-natural braids or you incorporate extensions into your look, you can keep your hair healthy and happy by adding just a few additional steps to your hair care habits.
Evaluate your hair. If you have already treated your hair with color or relaxer, then it may not be ready for braids. Both of these procedures break the bonds in your hair and can make it brittle and hard to manage. Putting braids in when your hair has just been treated with another styling technique can cause the braids to break off and make your natural hair uneven.
Prepare your hair. Give yourself several deep conditioning treatments over the week (or weeks, if you just got your hair relaxed or colored) before you get your braids. If your hair is recovering from another treatment, then give it four weeks of weekly conditioning treatments. If your hair is in a relatively natural state, then you can give yourself one or two conditioning treatments leading up to the braids. You can go to a salon for these treatments or use an off-the-shelf product.
Do a strand test. This will help you determine if your hair is ready for braids. Putting braids into unprepared or unhealthy hair will not keep the hair healthy, but rather exacerbate the matter. Pull a few strands of hair out from the crown of your head or the nape of your neck, then allow them to spring back. If they snap, then you need more conditioning before you put in your braids.
Shampoo daily. Once you get your braid extensions, shampoo your hair daily. This will cause your hair to grow faster. To help keep the braids intact, massage your scalp with shampoo, but sponge off your braids instead of scrubbing them. The hair in the braids is already protected by the braid, so you should be focusing on your new growth anyway.

Make sure to dry braids thoroughly. If you leave your braids wet after bathing, then the hair in them can actually rot or mildew over time. Use an absorbent towel to squeeze the water out of your braids before using any styling products on them.
Avoid braid sprays and styling products with oils. Oil causes the hair in braids to become matted. Mats must be clipped out when the braids are removed. If you want your hair to remain in tact throughout the time it is braided, you should use as little oil on it as possible.