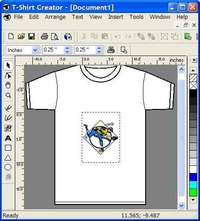 Designing your own personalized t-shirts can be a lot of fun. You can also use your t-shirt designs to make extra money. Having your own t-shirts is also a great way to raise money for specific causes or needs your community might have. All you need to design your own shirts are a few tools, time, and some creativity.
Things You'll Need
Digital Camera
Photoshop
Pictures
Use photo editing software like Photoshop. You can find this program on the Adobe website. This software comes fully loaded with all the design tools you need to create designs for your t-shirts. An alternative to Photoshop is GIMP. GIMP is a free photo editing software program that is very similar to Photoshop. Another free software program is Photoscape.
Open up a new file and make the dimensions about 600 x 600 pixels. From here you can decide whether or not to fill in the background or to leave it white. if you would like to do a t-shirt without a background and just put your design directly on the shirt you will simply need to open up the photo or artwork of your design and cut it out of the background using Extract from the Filter tool menu.
Open a photo or piece of you artwork that you would like to make into a t-shirt. Cut away any parts of the background you don't want to be part of your shirt design. Drag the cut design and photo to the background you created by using the Move tool.
Resize the photo by using the Move tool to fit the background image. You can take your cursor to all the edges of the picture and see squares that will allow you to enlarge or shorten the picture up and down, side to side, and even diagonally. Try to avoid using extremely large photos as this could cause you to really distort the picture when resizing it.
Click on the text tool and add a text box anywhere on your design. This tool will allow you to put text over an image that will say what ever you want in a variety of different fonts, colors, sizes, and designs. Pick one that suits the design of your shirt and that you think looks good.
Save your design as a .PNG file. Saving your finished design as this type of file will preserve the utmost photo quality during the uploading process of your t-shirt design to the shirt itself.
Open up a Zazzle account. Zazzle is an online merchant that allows individuals to make and design their own t-shirts and sell them online. They will help you set up your account as well as your gallery and store where your shirts will be made available. There is no fee to use Zazzle and for every shirt you sell you get a percentage of the sale.
Pick the t-shirt style. You will be able to choose from men's or women's shirts and from various styles and colors of shirts within those two types. Once you have selected the shirt you would like your design to be printed on, you are ready to upload your design.
Upload the design, add a description, and post your new shirt up for sale. Once the design is on the shirt you can use the Zazzle tools to custom fit your design to the shirt.