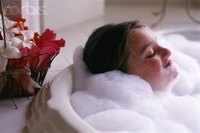 Your skin is the largest organ you have so it makes sense that it would be negatively influenced by factors such as stress. Scientists have found that high levels of stress can cause an increase in breakouts due to the fact that stress weakens the body's defense systems, making it less likely to be able to fight off acne-causing bacteria. Stressful situations or emotions such as fear and anxiety can also trigger chemical reactions within your body that make it more likely to suffer from inflamed acne lesions. One way to treat stress acne is to minimize the stress in your life.
Things You'll Need
Bubble bath
Funny movie
Journal
Cleanser
Salicylic acid
Moisturizer
Make sure to get at least 7 to 8 hours of sleep nightly. Eat a balanced, healthy diet and exercise regularly. Avoid junk food, soda and greasy fast food. Take long walks every day to ease any tension you may be feeling. These are all ways in which you can decrease internal stressors and help your body fight acne. Once you minimize the stress, you can begin to treat any resulting acne and hopefully prevent future stress acne by learning to manage your stress more effectively.
Engage in activities that reduce stress. Take a calming bubble bath, hang out with pleasant company, jot down any negative feelings in a daily journal, watch a funny movie or just take some time off work or school to relax at home. Light some vanilla and lavender scented candles, dim the lights and lie down to relax. The aromatherapy from the candles will relieve anxiety and ease any tension you may be experiencing. This will in turn help your body fight off infections that lead to acne.
Treat your acne by developing a morning routine consisting of a deep cleanser and acne spot treatment.
Every morning wash your face with a gentle, oil-free cleanser to treat the stress acne that is still lingering on your face or body. Follow this with an application of salicylic acid on inflamed acne lesions. Try Neutrogena's Oil-Free Acne Stress Control, which is a hydrating 3 in 1 treatment specifically formulated to relieve stress acne.

Apply a soothing, oil-free moisturizer all over your face to prevent excessive drying of the skin. A lavender scented moisturizer has the added bonus of naturally relieving stress when you breathe it in.