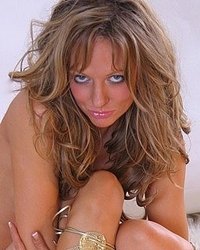 If I just "wash & wear" my hair, it is so thin & flat that my ears actually show through the sides! Because of this, I've tried many styling products & techniques over the years and finally figured out the ultimate system for making flat hair look full & sexy.
Things You'll Need
egg, milk, honey, & beer
specific hair styling products (as detailed in this article)
blow dryer & big curling iron
pony tail elastic
at least 2 big velcro rollers
fine tooth comb
optional: temporary spray on color, a sheet of paper, & clip-in hair extensions
Make a homemade hair mask to "fill-in" any damage/split ends and naturally make hair look healthier. (Results from this step are immediate!) Mix 1 egg with 1 Tbsp. milk and 1 Tbsp. honey. Apply to dry hair and let sit for at least 1/2 to 1 hour, depending on how much time you have.

Use shampoo designed especially for thin hair and condition ONLY the ends. After rinsing out completely, pour beer over head and saturate entire length of hair. I use Bud Light because it's what we usually have on hand, but any kind will work (even flat, day-old beer). If it's cold, it may feel shocking, but this will help seal cuticle for added shine. This step sounds weird, but models do it to help make hair more manageable!

After towel drying hair, apply to following products while hair is still damp: Lottabody Setting Lotion to roots and throughout length of hair, Marc Anthony Instantly Thick Cream through length, Herbal Essences Body Envy Volumizing Gel only on the roots, massaging it into scalp. Also, add a little Hask Pure Shine Spray-On Laminator just to the ends to seal and protect from heat damage. Comb all products through hair and then blow dry with head upside down the entire time, shaking hair with fingers as you lift hair against the direction it will be styled in. When hair is almost completely dry, and before flipping head back up, make a high ponytail on top of head with an elastic. Leave out the front section (from the ears forward), otherwise it will leave an elastic "bump" mark in your hair.

Hair spray roots of the loose front section and wrap it back from ends to root around large velcro roller. (These are inexpensive at beauty supply shops like Sally's.) Use a 2nd velcro roller to wrap pony tail from ends to base so hair will have slight bend when it's done. Mist head lightly with aerosol hairspray. Keep hair up like this while you do something else for at least 1/2 hour. (Use this time to do your makeup or get dressed, etc.) You may look silly (my husband has called me "Bam-Bam" when my hair's up like this) but it's worth it because it really locks-in lift at the roots.

When you take out rollers and elastic and shake hair out, it will be full and puffy looking. To make this volume last without falling flat, spray hair spray on fingers and massage it into scalp so you get the spray right into the roots of hair. Repeat this all over head one section at a time. (Spray fingers, rub in one section, spray fingers again and rub in another section, etc.) Then, lift 1 inch sections all around head & tease/back-comb the roots of the under layers with a fine tooth comb. Smooth top layers to cover teased sections with a large barrel curling iron, sliding it down hair and bending the ends up and in different directions. Mist more hair spray lightly by lifting sections and spraying underneath. To add "piecey" effect to layers, spray wax on hands and pinch over ends to define. Then, finish with a mist of shiny spray all over. This will turn your fine hair into tousled "bed-head" hair that's full of sexy body!