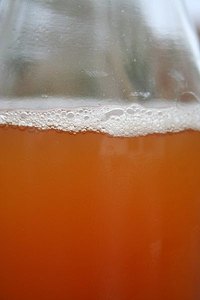 Are you looking for a natural path to better health? Apple cider vinegar may be the answer. Apple cider vinegar has been used for centuries as a cure-all tonic for everything from weight loss to heart disease to clearing up allergies. Most of these uses have not been tested extensively by science, but there is a great deal of anecdotal evidence to support its use. Not only that, but is has found uses in a myriad of other settings, including everything from being a cleaning agent to an antiseptic to dyeing Easter eggs.
Take two to three teaspoons of apple cider vinegar before each meal to aid in weight loss. It is thought that drinking a small amount before each meal will not only reduce hunger and prevent cravings for more food than the body needs, but also reduce the glycemic index of whatever foods are being consumed. For this reason, some suggest it to diabetics as a supplement to their meals to try to ensure better health. This is the most studied benefit of apple cider vinegar and preliminary studies have shown promising results.
Make a salad dressing from olive oil and apple cider vinegar for your salads at least five times per week. Early studies involving rats have shown a reduction in high blood pressure and a lower risk of other cardiovascular disease. It has also been demonstrated to slightly reduce serum cholesterol. One of the most important long-term things you can do to ensure better health is to keep your blood pressure in the normal range and other markers under control.
Use of apple cider vinegar has been linked to improvements in constipation, headaches, food poisoning, fatigue, obesity, and other conditions that get in the way of better health and quality of life.
Use raw, organic varieties that still contain enzymes from the original mother. Mass produced varieties have been pasteurized, destroying those beneficial enzymes, as well as anything that could potentially be harmful. Likewise, pill supplement forms should be eliminated at all costs. Supplements are not regulated for safety and truth in advertising the way that food products are, so they could contain anything from nothing at all to very harmful chemicals.