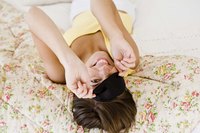 Sometimes late nights are unavoidable, whether you're cramming for a test, preparing for an important day at work or enjoying a night out on the town. Whatever the reason, staying up too late often takes a toll the next morning. If you need to look fresh, beautiful and professional the next day, puffy eyes and other signs of sleepiness are bad news. Fortunately it's possible to erase signs of tiredness and look bright and alert.
Things You'll Need
Wear a cold compress or eye mask. Coldness boosts circulation and drains the excess fluids that cause puffiness. Place a gel eye mask in the fridge or the freezer; it should be chilled but not frozen. If possible, use an eye mask without eye holes so your eyelids will also receive benefits. Place the mask over your eyes for 10 to 15 minutes. If you do not have a mask, place a bag of frozen vegetables over your eyes for 10 minutes. Wrap the bag in thin fabric if it is too cold for comfort.
Gently but firmly massage the skin beneath your eyes. Focus on the area beneath your eyes, starting at either side of your nose and moving outward across your cheekbones. Push the skin gently upward as you massage under your eye area in a circular motion. Apply a hydrating, nourishing eye cream at the same time for added benefits.

Take a warm shower. Following your cold compress, a warm shower offers an emotional boost and helps you look less tired. Briefly aim your face beneath the shower spray so that the warm water massages your eyelids and under your eyes. The warm water further helps to reduce any remaining puffiness.
Apply light makeup. Avoid heavy lines or dark shades, which run the risk of emphasizing your puffy eyes and looking too harsh. Use makeup items in neutral, light shades with a hint of shimmer. Apply a light layer of translucent illuminating powder and a tinted moisturizer to cover dark circles. Add a dusting of bronzer to your cheeks for a healthy glow. Instead of dark or heavy eyeliner, use a beige or nude color to cancel out any redness around your eyelids.