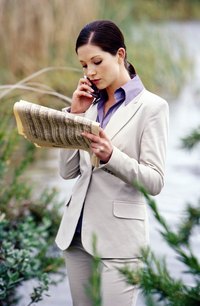 Warren Buffet famously opined, "When others are fearful, be greedy, and when others are greedy, be fearful." When it comes to the stock market, you have to know when it's time to be greedy and buy low so you can later realize a profit.
Establish how much money you want to invest and risk. There is never any guarantee that a stock will go up so never invest more than you can afford to potentially lose.
Access a website like Yahoo! Finance that tracks and compares stock fluctuations. This is how you will be able to tell which stocks are devalued and ripe to buy low. On any given day, some stocks always drop precipitously in value. These will show up as "biggest losers" or some similar title. The low value may be due to a scandal affecting the company, a bad earnings report or a general belief the industry is in decline. With big companies, it is usually easy to do a little research and find out what went wrong. In general, if something specific is affecting the company, it is likely there are many investors who have panicked, deciding it's time to sell low instead of buying low, which is the smart thing to do. This is where you come in. If a company is in the "loss leader" segment and has lost a huge amount of its value from some kind of scandal, there is a good chance it will recover some of that value in the near future.
Buy low, if you feel confident that investors have become overly nervous and have caused the price of the stock to become too low. Try to diversify and put your money in several different stocks to minimize your risk.
Sell the stock after the price goes back up significantly, which may happen in a matter of days or weeks. Find new, undervalued stocks and buy low. Keep in mind that some scandals and revelations can seriously cripple companies and that their value may continue to go down for quite some time. There is always risk with this strategy, often called "bottom fishing," "deep value" or "contrarian." It's a very risky strategy, but if you have good intuition about the market — or get lucky — you could make a lot of money deciding to buy low.