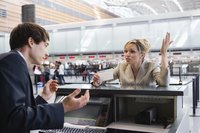 Anyone who has worked in customer service certainly has a fair share of stories concerning irate or confrontational customers. While you may not be able ease the fury of some customers, there are things you can do to diffuse such situations -- both with in-person customer service and over the phone. You'd be surprised at how simply changing your attitude can change a heated situation into a manageable one.
Calm yourself. You can't control how this other person is acting, but you can control your actions. Having two irate people makes the situation worse.
Be patient. Give the customer a chance to explain the problem, and listen to the details to help you determine what went wrong and what can be done to correct the issue. Don't interrupt the customer's initial rant. When you do have a chance, first reassure the customer that you're willing to listen.
Ask what you can do to help. Letting the customer rage on about how upset she is doesn't solve anything. Don't dwell on what went wrong; find out what path you need to take to resolution. Letting the customer know you're willing to do something to help aids in calming her down.
Go out of your way. While a remedy for the situation may not be easy, try to show the customer that you're doing everything in your power, whether that means taking some extra time with him or letting him know you will speak to your supervisor.
Express empathy. Sometimes a customer just wants to rant and get the anger off his chest. At times like these, just put on a concerned face and listen. Don't express sympathy; instead show empathy. The difference is that you're showing you know what they are talking about and can understand their concerns. Just knowing that someone is listening to them makes some irate customers feel better regardless of the outcome of the situation.